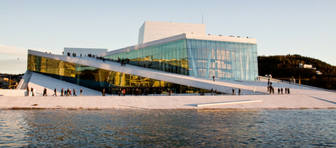 18 May 2017
By Luca Bertalot, Secretary General, EMF-ECBC
On the 6th of April 2017, the European Covered Bond Council (ECBC) held its 25th Plenary Meeting in Oslo, Norway with the kind support of Finance Norway and The Norwegian Covered Bond Council, bringing together over 250 key stakeholders in European and global covered bond markets.
Hosted in the stunning Oslo Opera House, the meeting sought to address the key issues currently facing the asset class. These included panel discussions focusing on Norwegian covered bonds, the ongoing debate regarding potential harmonisation of covered bonds at a European level, the global outlook for covered bonds and the financing of energy efficiency and the role that green covered bonds and the EMF-ECBC Energy Efficient Mortgages (EeMAP) Initiative can play in this area. For those of you who were unable to join us in Oslo, we are pleased to announce that a series of short videos summarising the key issues considered during these panels are now available to watch via the EMF-ECBC YouTube Channel (please  CLICK HERE).
In addition to these panel discussions, a number of speeches were delivered by senior representatives of Finance Norway, the European Banking Authority (EBA), DG FISMA and DG ENERGY of the European Commission, and the European Bank for Reconstruction and Development (EBRD). Please CLICK HERE to access the full Agenda for the event.
To open the event, we were delighted to welcome Jon Nicolaisen, Deputy Governor of Norges Bank (the Central Bank of Norway), who delivered a keynote speech entitled "Covered bonds and their impact on investors, banks and the real economy", which we reproduce below.
In terms of the next, 26th ECBC Plenary Meeting, we are pleased to confirm that this will take place in Barcelona, Spain on the 13th of September 2017 and that further details regarding the organisation of this event – together with the following day's Euromoney Conferences & ECBC Covered Bond Congress 2017 – will be announced shortly.