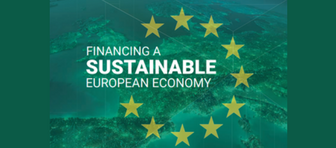 13 July 2017
On 13 July 2017 the European Commission's High-Level Expert Group on Sustainable Finance published its interim report to advise on developing a comprehensive EU strategy on sustainable finance. The full report, which can be accessed here, sets out concrete steps to create a financial system that supports sustainable investments. The European Commission will now explore some key early recommendations from the Group to take further steps towards a low carbon, more resource-efficient and sustainable economy. To recap, the report is part of the European Commission's broader efforts to map out an EU strategy on sustainable finance, a priority action of the Capital Markets Union (CMU) Action Plan. Further details can be found in the accompanying press release of the European Commission, accessible here.
In this context, we would like to draw your attention to the fact that the EMF-ECBC's Energy efficient Mortgages Action Plan (EeMAP) initiative is directly referenced in the report (page 32) as an example of a data gathering exercise which could potentially justify the consideration of lower minimum capital requirements for asset classes such as green bonds and green loans.
The High-Level Expert Group will continue examining other policy areas, such as: integrating sustainability considerations in ratings, improved transparency requirements for listed companies, as well as increasing the level of sustainable investments through stable long-term policy frameworks and a strong pipeline of sustainable projects.
The interim report will be discussed at a Public Hearing on Sustainable Finance organised by the European Commission on 18 July 2017 in Brussels at which the EMF-ECBC will present the EeMAP initiative. This hearing will be accompanied by a public consultation that will help the Group to deepen its analysis and shape its future policy recommendations.