04 June 2018 8:00 am — 08 June 2018 8:00 am
EU SUSTAINABLE ENERGY WEEK
04 – 08 June 2018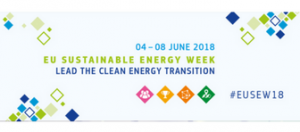 The high point of EUSEW is the annual Policy Conference featuring leading figures and a diverse programme of sessions and side-events aimed at discussing and shaping Europe's energy future.
The Networking Village hosts exhibitions, presentations, a Speakers' Corner and one-to-one meetings. It is a key feature of the Policy Conference – a place for the EUSEW Community to exchange ideas. The call for activities is open until 23:59 (CET) on 30 March!
Organised throughout Europe by public and private organisations, Energy Days encourage citizens and stakeholders to discover and debate the major issues driving the transition to sustainable energy.
There is no official deadline. The only requirement is that your Energy Day takes place during May and June 2018 and that you submit it on time to benefit from greater visibility at the EU Sustainable Energy Week itself (4-8 June)
Find out more here.
---