While the COVID-19 pandemic has made digitalisation a necessity for the banking sector in many respects, most banks and financial institutions had already taken strides in this direction in recent years. A completely digital ecosystem represents both challenges and opportunities for our sector, and we believe that it is important and timely to analyse the implications of digitalisation for funding and retail best practices.
Against this background, we were pleased to invite stakeholders to participate in an EMF-ECBC Roundtable on "The Digital Age: funding and lending implications for our Industry", which took place online on Friday, 11 June 2021.
In the current context, EU Member States are getting ready to implement their recovery and resilience plans that set out reforms and investments aligned with the EU digital policy objectives, with a minimum 20% expenditure on digital. This is part of the wider plan set by EU priorities of which "A Europe fit for the digital age" is a key component, aimed at making this Europe's digital decade by following a roadmap of clearly defined 2030 digital targets.
With these considerations in mind, the EMF-ECBC was pleased to present the accompanying programme of confirmed speakers who exchanged views on the key issues at stake and initiated an Industry debate on the medium to long-term implications for the business from policies to markets perspectives.
Main discussion points:
Evolution, not revolution: practical examples of bond digitalisation
Digitalisation advantages for bank funding value chains
How could digitalisation influence role-plays in securities markets? 
Emerging actors: fintechs
The bond tokenisation process and the obstacles ahead
Digitalisation-led improvements for asset pool management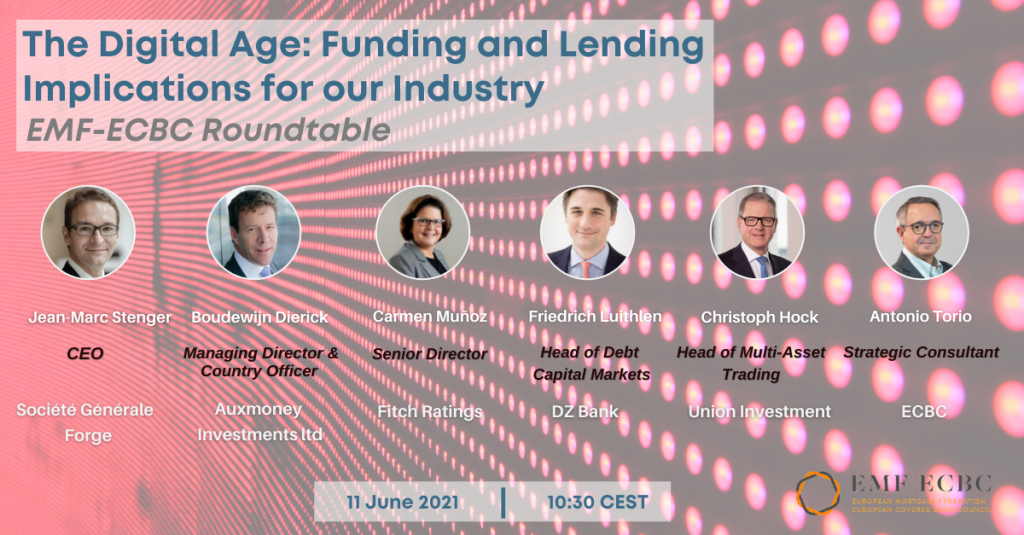 Schedule
---