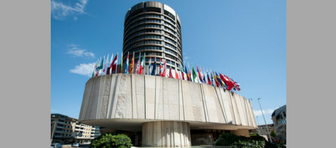 The European Mortgage Federation-European Covered Bond Council (EMF-ECBC) welcomes the announcement that the Basel Committee on Banking Supervision (BCBS) has reached an agreement on the Basel III reforms. This announcement comes after several years of discussion and consultation in which the EMF-ECBC has actively participated.
In particular, the EMF-ECBC is delighted that the macro-prudential characteristics of the covered bond asset class have been formally recognised at global level, and that the BCBS recommendations capture the key qualitative features already intrinsic to the Covered Bond Label. This development sets the scene perfectly for the upcoming 1st global ECBC Plenary Meeting in Vancouver on 18 April 2018, during which the European Commission will present its proposal for an EU framework for covered bonds to a global investor base.
The EMF-ECBC will now examine the BCBS recommendations in more detail to fully assess their impact on the mortgage and covered bond businesses, and begin a dialogue with the EU Institutions in anticipation of the future implementation of these recommendations into EU law.
In this context, the EMF-ECBC also welcomes the statement of European Commission Vice President Dombrovskis, responsible for Financial Stability, Financial Services and Capital Markets Union, emphasising the importance of a level playing field for banks globally, the need for all major jurisdictions to implement all elements of the agreement and the thorough and detailed impact assessment that the European Commission will now carry out.
Indeed, the EMF-ECBC remains concerned about the BCBS recommendations regarding an output floor, which in our view have the potential to undermine the risk sensitivity of internal models and, therefore, capital requirements, and reduce incentives for better risk management. This is particularly relevant against the background of the European Commission's current efforts to integrate sustainability considerations into its financial policy framework and unlock the potential of the banking industry to finance energy efficiency.
Commenting on the recent announcement, Luca Bertalot, EMF-ECBC Secretary General, said:
"We welcome the strong regulatory recognition at global level that the BCBS agreement lends to the covered bond asset class, which contributes to financial stability and supports the real economy. This agreement paves the way for a broad international investor base and supports the definition, in the context of the Capital Markets Union, of an EU legislative framework offering qualitative benchmarks for global issuers and investors. The agreement also underlines the importance of the Covered Bond Label, which remains the only platform by which banks can demonstrate to the global market, in the interests of transparency, their compliance with the provisions of the recommendations. Our priority now is to assess the other elements of the agreement and their impact on EU mortgage lenders and covered bond issuers, and ensure that future implementation in Europe responds to market realities and specificities so that a level-playing field is secured globally."