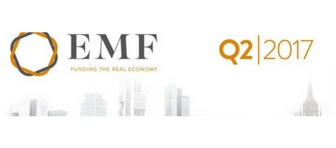 The European Mortgage Federation (EMF) has today published its Quarterly Review of European Mortgage Markets for the second quarter (Q2) of 2017.
Produced in cooperation with the Federation's national experts, the Quarterly Review presents the latest short-term developments in mortgage and housing markets across the EU. The publication provides expert analytical commentary together with data tables and charts on the following key indicators:
Mortgage interest rates;
Total outstanding residential mortgage lending;
Gross and net residential mortgage lending; and
Nominal house price indices.
Overview of Q2 2017:
"In the second quarter of 2017 the positive economic momentum, coupled with a persistent low-interest rate environment, contributed to a mortgage market expansion throughout the continent. Almost across the board house prices were stable or increased year-on-year, including double-digit increases in some regions. The introduction of macroprudential tools has helped to cool off some of the more heated market segments. The supply-demand imbalance is expected to continue in the near future, especially in the high-growth areas, although construction figures are picking up, according to our data."
Daniele Westig, EMF-ECBC Economic Adviser
The full Quarterly Review – Q2 2017 and the archive of previous editions (back to Q1 2012) are available on the EMF website here. For older data, please contact the EMF Secretariat.