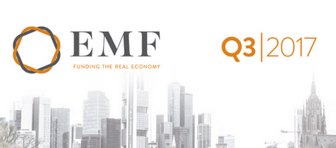 Added Focus on Regulation and Government Interventions Impacting Mortgage Markets
The European Mortgage Federation (EMF) has today published its Quarterly Review of European Mortgage Markets for the third quarter (Q3) of 2017.
Produced in cooperation with the Federation's national experts, the Quarterly Review presents the latest short-term developments in mortgage and housing markets across the EU. The publication provides expert analytical commentary together with data tables and charts on the following key indicators:
Mortgage interest rates;
Total outstanding residential mortgage lending;
Gross and net residential mortgage lending; and
Nominal house price indices.
Overview of Q3 2017:
"It is very interesting to see that in Q3 2017 the economic momentum in the European Union continued with positive GDP growth, falling unemployment rates and expanding private consumption. In an environment of improving economic fundamentals, coupled with generally very low interest rates, we are pleased to note that the overall mortgage market in the EU is expanding, notwithstanding the overall challenging geopolitical international and domestic tensions."
Luca Bertalot, EMF-ECBC Secretary General
The full Quarterly Review – Q3 2017 and the archive of previous editions (back to Q3 1998) are available on the EMF website here.