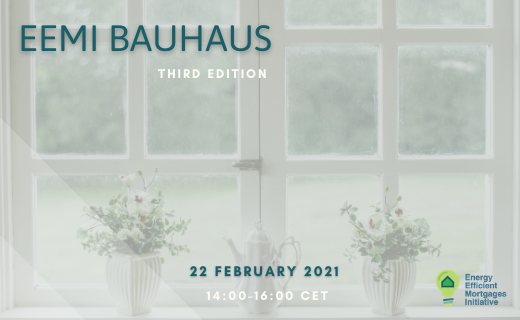 VIDEO RECORDING
3rd EEMI BAUHAUS EVENT
22 February 2021, 14h00-16h00 (CET)
AGENDA
Welcome – Luca BERTALOT
Introduction by the Session Moderator – Richard KEMMISH
Presentations
Each presentation will be followed by a 15 minutes Question & Answer Session open to all participants
Jungo
State of play of the Dutch Mortgage Market
          Gérard Looijen – Director
          Martin Nijboer – CFO
Jungo will share observations on the Dutch Mortgage market in relation to improvement of sustainability of houses and how this has led to the development of the Jungo Mortgage proposition. Encouraging and facilitating the improvement of sustainability.
 See presentation HERE
How to raise awareness in making properties "greener"
Cátia Alves – Head of Sustainability and Corporate Responsibility

How did UCI create an integrated network, and developed a robust ecosystem around sustainable housing?
Are knowledge management and AI blockchain part of the solution? Latest Trends and developments.
SEE PRESENTATION HERE
Transition to a carbon-neutral economy: opportunities and perspectives



Sigurd Næss-Schmidt – Partner and Director of Economics

The financial sector will provide a significant contribution to decarbonizing the EU economy.  While this challenge will impact all parts of the economy, the pathways to decarbonization will be significantly different across sectors and countries. Financial institutions and other stakeholders need a credible forward looking approach from EU and national regulators reflecting this diversity and promoting a risk based approach to assessing the effects of the green transition on assets prices. The presentation will highlight some areas where EU is soon to take critical decisions in this area.
 SEE PRESENTATION HERE
How do Climate Related Risks Impact Credit Institutions?
Christopher Posvar Rossi (IT) – Senior Manager
Sebastian Gillet (BE) – Senior Consultant
Louis de Meester (BE) – Senior Manager
In this session, Reply will focus on how Climate Related Risks impact Credit Institutions, with a particular focus on industry approaches to quantify these risks via Modelling and Stress Testing.
The presentation will draw from some real examples currently being applied within Credit Institutions.
SEE PRESENTATION HERE
Schedule
---